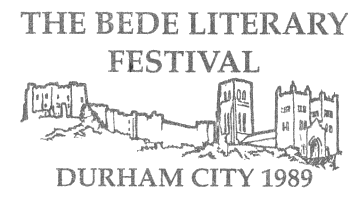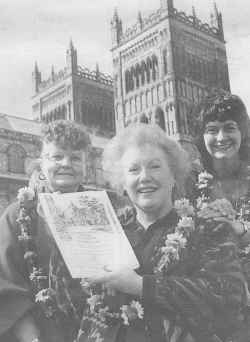 The city of Durham has literary associations which can be traced back far beyond the 1980s; nonetheless, the Durham Literature Festival as we now know it originated with the inspiration of one woman in 1989. Mary Bell, a writer from Easington Colliery, drew up plans for a literary festival and sent them off to the organisers of County Durham's Land of the Prince Bishops campaign. Her ideas were welcomed, and Mary was rewarded, alongside novelist Denise Robertson, with the award of a floral garland.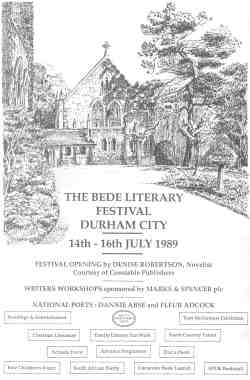 Festival organiser Julie Goodhart, a tutor at the College of Hild and Bede, explained:

"Bede was the most celebrated historical writer to come from the North East, and it seemed appropriate to revive the tradition of the Durham Garland."
The festival spanned the weekend of July 14th - 16th, which included the Durham Miners' Gala; it featured exhibitions, writers' workshops and events with both local and nationally known poets and other authors. Denise Robertson performed the opening ceremony.
Even in those remote, pre-internet, days, the festival had an online element: British Telecom donated free use of their dial-in facilities for the festival itself and the period leading up to it. This was used in two ways: the public could simply phone in to hear a taped version of the festival programme - but they could also "Dial a Poem", and writers' groups supporting the festival were invited to submit poems for inclusion on the tape.
Festival Programme
Advance Programme
Events sponsored by the NUM:

Tom McGuinness Art Exhibition, Brass Band Contest, The Trimdons (with Keith Armstrong and folk band Skerne), Tommy Armstrong the Pitmen's Poet (readings by Bob Fox)

Plus:

Coriander Writers' Book Launch, The Anglo-Saxon Chronicle (Children's workshop with Jack Drum).
Friday 14th July
The Circus of Poets:

Ian McMillan and Martyn Wiley present a lively and entertaining performance for schools. Since 1982 they have visited 1000 schools all over the country. They co-wrote Overstone (Arnold Wheaton, 1988), a book of stories for children.


Assisted by the Poetry Secretariat





Ahmed Bawa

is a researcher at Durham University. His vivid poetry has been presented around the North East, and he tells of the turbulent times in his homeland of South Africa.



of Langley Park in Durham, was born in England and educated in the United States. Her recent books are The Fiction Makers, the 1985 Poetry Book Society Choice Selected Poems and Bitter Fame (1987), a biography of Sylvia Plath.


Sponsored by SPCK
Saturday 15th July
Festival opening with Denise Robertson

Denise Robertson's first novel Land of Lost Content was published by Constable, and was a best seller.


Sponsored by Constable Publishers





Entertainment on the racecourse: Gala Day:

The Trimdons: Poet Keith Armstrong and folk band Skerne
Tommy Armstrong the Pitman Poet with folk singer Bob Fox.




Meet three poets:

Ric Caddel, Cynthia Fuller and Carol Rumens are all writers living or working in Durham City.
Ric Caddel's publications include Fantasia in the English Tradition and Wine Tales (with Lee Harwood). Cynthia Fuller is one of the editors of Writing Women and a tutor at Newcastle Polytechnic; her latest collection of poetry is entitled Dreaming of Islands.
Carol Rumens is the current Poetry Fellow at Durham University. Her latest work, The Greening of the Snow Beach was inspired by a visit to Russia. The book offers an insight into Russian culture and literature, and an impression of "thawing out under glasnost".




David Scott: Priest and Poet

David Scott is the vicar of Torpenhowe and Allhallows in Cumbria, and is a traditional poet. He won the Sunday Times/ BBC National Poetry Competition in 1978, and his first book of poems won the 1986 Geoffrey Faber Memorial Prize. His work has been described as compassionate, extraordinary, precise, scrupulous and authentic.




Heather Winskill

is an entertaining performer and currently teaches English in a comprehensive school. Her range of work includes poetry, monologues and script work for Grange Hill. She is a former student of the College of St Hild and St Bede.




Dannie Abse: A Strong Dose of Myself

Dannie Abse is one of the most popular figures in British literature, so much so that two BBC programmes have been devoted to his life and work. Both his prose and poetry have a large following and his work is recognised both nationally and internationally. His work is so consistently entertaining and accessible that he has been described as one of the most remarkable poets currently writing.
Sunday 16th July
Peter Mortimer and Jackie Litherland

Peter Mortimer is a freelance writer and publisher. His weekly column appears in the Evening Chronicle, and he also conducts reviews for The Guardian. He is the founder and editor of Iron magazine and press and he has had seven full-length plays produced for the stage in the UK, USA and West Germany.
Jackie Litherland lives in Durham, and specialises in poetry and children's writing. Her book The Long Interval was published by Bloodaxe in 1986.




Children's Entertainment

with the John Kelly Puppet Theatre.




Fleur Adcock:

is one of the most celebrated poets in England. Born in New Zealand, she has lived in England since 1963, and works as a freelance writer. Her most recent publications are Hotspur: a ballad for music (1986), and Meeting the Comet (1988). She edited The Faber Book of Women's Poetry which was launched in 1987.
Assisted by the Poetry Secretariat.
Presented by Colpitts Poetry.




The Festival Party

with folk singer Julie Goodhart, Irene Ord, poetry from Michael Standen and John Pennison and short stories from Julie Ward and Rosemary Gill.
Return to Archives home page.