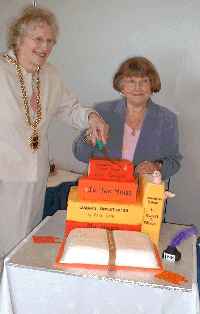 15th Anniversary
Durham's 2004 Literary Festival marked its fifteenth birthday by adopting a theme of celebration and collaboration. A programme of fifteen outstanding events, not to mention a feast of new publications, was launched by - what else? - a birthday party. Guest of honour was Mary Bell, the moving spirit behind Durham's first literature festival, seen here cutting the festival's birthday cake (with a little help from Cllr. Mary Hawgood, the Mayor of Durham).
Birthday Presents
The party also announced four exciting new pieces of work, specially commissioned to celebrate the continuing partnership of the Literature Festival with sponsors Cornwell Internet. The specification was that the work must be new, must be literary (in the broadest sense) and must be suitable for presentation on the Festival website.
Read more about the commissions project here.
---
And the winner is...
The 2004 Sense of Mischief Short Story competition produced four excellent winning entries, which we are delighted to be able to publish on this website for you to read on-line. For all information about the competition and awards, not to mention a quiz about children's books, visit the Sense of Mischief home page.

This website is maintained by Cornwell Internet
as part of their sponsorship of the Literature Festival
Last update: 21st August 2005